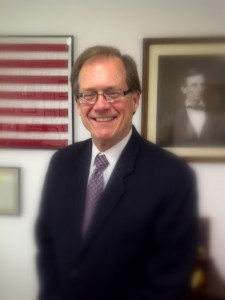 Member of the Bar and authorized to practice:
Illinois Supreme Court (1988)
Northern District of Illinois (Federal Court) (1988)
Northern District of Illinois Trial Bar (1990)
7th Circuit United States Court of Appeals (1988)
Northern District of Iowa (pro hac vice) (2005)
United States Supreme Court (2011)
Member
Will County Bar Association
Illinois State Bar Association
American Association for Justice
Illinois Trial Lawyers Association
DuPage County Bar Association
Chief Arbitrator for Mandatory Court-ordered Arbitrations
Kane County (1995- )
Will County (2004- )
Practice History:
LAW OFFICES OF LEE GUNTER, September 2007 to present
GUNTER & FRANGELLA, October 2004 to September 2007 (Senior Partner)
CHILTON, YAMBERT, PORTER & COGHLAN, September 2001 to October 2004 (managing partner of firm's Joliet office)
O'HAGAN, SMITH & AMUNDSEN, L.L.C., October 1997 to September 2001 (Elected partner May, 1998, Managing Partner of firm's Joliet office)
QUERREY & HARROW, LTD., January, 1992 to October, 1997
GOLDSTEIN, GOLDBERG, FISHMAN, BENDER & ROMANOFF, June, 1992 to    December, 1992
LAW OFFICES OF BRUCE M. BOZICH, May 1989 to June 1992
Legal Experience:
Trials – The Law Offices of Lee Gunter handles cases throughout Illinois and has tried cases in the following counties; Will, Cook, Dupage, Kane, Kendall, Dekalb, Grundy, LaSalle, Kankakee, Bureau, Mercer, Knox, Coles, Sangamon.
Counties of Practice – Lee has handled cases in Bureau, Carroll, Coles, Cook, Dekalb, DuPage, Grundy, Hamilton, Kane, Kankakee, Kendall, Knox, Mercer, Peoria, Champaign, Crawford, Edgar, Iroquois, Jackson, Hamilton, Lake, Lee, Livingston, McHenry, McLean, Mercer, Ogle, Putnam, Randolph, Sangamon, Wayne, Will, Williamson, and Winnebago counties.
Appellate Practice – Lee has represented clients before the Illinois Supreme Court and the First, Second, Third and Fourth District State Courts of Appeal.
Publications:
Gunter, Clifford Lee, "Medical Studies Act:  Challenging Unjustified Claims of Privilege," Trial Journal, Volume 17, Number 2, Summer 2015, Page 18.
Gunter, Clifford Lee, "Court-ordered Physical Exams Under Supreme Court Rule 215," Illinois Bar Journal, February 1998, Vol. 86, Pg. 94.  In the first reported case of its kind, the defense compelled a minor to undergo an MRI under general anesthesia.
Education:
Loyola University of Chicago School of Law (Juris Doctor, 1988)
University of Illinois, Urbana-Champaign (Bachelor of Science in LAS with a concentration in Chemistry, 1981)
Prior work history:
Pharmaceutical Sales Representative (1981-1988)
United States Navy Hospital Corpsman 1975-1977 (Honorable Discharge)
Registered Emergency Medical Technician (1976-1977)
Cardiopulmonary Resuscitation instructor (1977-1981)
Current Interests:
Cub Master (after serving as Assistant Cub Master) for church sponsored Cub Scout Pack (2010-2013); Actively involved in Boy Scout Troop as Troop Committe member and merit badge counselor (Lee became an Eagle Scout in 1972)
Member: American Legion Post 43
Member: American Association of Navy Hospital Corpsmen
Member: American Civil Liberties Union
Member: Lincoln Forum
Member: National Eagle Scout Association
Member: AARP
Supporter: Operation Welcome You Home
Supporter: Homes for Our Troops
Supporter: Operation Support Our Troops – Illinois
Supporter: Midwest Shelter for Homeless Veterans
Supporter: Fraternal Order of Police
Supporter: Joliet Fire Department
Supporter: Will County Deputy Sheriff's Association
Supporter: Will-Grundy Medical Clinic
Supporter: Access DuPage